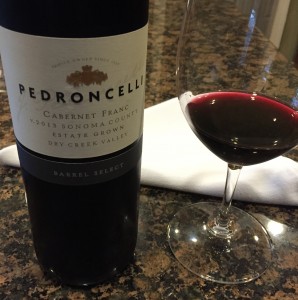 It was a typical evening with me getting home from work and thinking about what wine I will open.  If you don't open a wine every day (or at least every other), let me remind you that, you only live once.  And before someone calls in an intervention, I want to tell you about the wine I had.
First, let me say that I am selective about the California wines I drink.  Yes, there are a lot of great wines, many are so low in production that, unless, you visited there, you may never see them.  The other side of that coin is the tremendous amount of plonk produced as well.
One of the hidden gems of California exists in the AVA known as Dry creek Valley.  This 16 mile by 2 mile niche is tucked into the northern portion Sonoma County, one hour north of The Golden Gate Bridge, and bordered by Lake Sonoma in the north and The Russian River to the south.
Almost all the vineyards in Dry Creek are low production, and are not just family owned, but descendents of immigrants that have long history in the area. The vineyards still remaining in the region represent the survivors of tough times, like Prohibition, when most farmers grubbed up vines and switched to prunes. It is then no surprise that their respect for this land translates to a majority following sustainable, organic and biodynamic practices.
Along with history and respect for the land, Dry Creek Valley has that added advantage of possessing a unique set of growing conditions, even compared to the rest of Sonoma.  When looking at California climate, we usually look at proximity to the ocean and gaps in the Coastal Range that allow fog to travel inland and moderate what would ordinarily be a hot climate.  The same is true with Dry Creek Valley but with some variations.
Dry Creek Valley is at the northern edge of fog influence coming from San Palo Bay and from the Petaluma Gap.  The fog that the valley sees is burned off earlier in the morning compared to the surrounding valleys. This means more sun, higher daytime temperatures and riper fruit.  The cooling air from small disruptions in the Coastal Range creeps in at night creating a substantial diurnal temperature range.  This is important in maintaining natural acidity inside the grape and allows the grape to "rest" and build some of the complex aromatics we enjoy in the finished wine.
Within the valley the temperature varies, being much cooler in the south and hotter and drier in the north. These microclimates and the complex and varying soil structure explain why there is such a diversity of grapes grown here. Although best known for producing world-class Zinfandel and noteworthy Sauvignon Blanc, the area also produces interesting Bordeaux and Rhone varieties. The hotter northern end of the valley is gaining popularity with some native Italian grapes as well.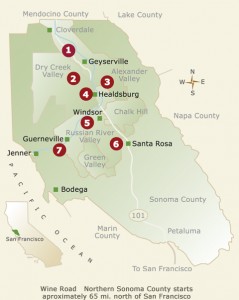 The wine I opened was from Pedroncelli, a family owned estate in the northern third of Dry Creek AVA.  The vineyard was originally purchased in 1927 by John Pedroncelli, Sr. and planted 25 acres with mostly Zinfandel.  During Prohibition he kept the vineyard going selling grapes to local home winemakers. Over the years the vineyards have expanded, as has their business.  Today they not only have a 45 acre Home Ranch planted on hillside to mostly Zinfandel (along with Sangiovese, Petite Sirah, Syrah and four different Port varieties) but also the 52 acre East Side Vineyards (on the eastern side of the valley) planted to Cabernet Sauvignon, Merlot, Sauvignon Blanc and a small block of Cabernet Franc. These vines are spaced closer (6' X 9') and use the Smart Dysen and Scott Henry split canopy trellising systems.
The Cabernet Franc here is largely used as a blending grape in some of their wines. I, however, found a Pedroncelli labeled Cabernet Franc not listed on the company website.  When I inquired about the wine, I was told this wine was made for a private label company on the East Coast and was sold on their flash site.  All of the Cabernet Franc lot was sold only to them and that is the reason there is no information on their website.
Nonetheless, the wine is interesting and well made. This 2013 Pedroncelli Cabernet Franc is 80% as labeled with 20% Merlot blended in.  The wine sees 15 months in new and seasoned American and French oak barrels (25% new French oak). Not only is this wine an interesting evening sipper but also would pair well with pork tenderloin and a raspberry sauce.
Tasting Note
Appearance:      Medium ruby color with colored tears
Nose:    Medium (+) intensity with aromas of ripe raspberry, prune, brambles, violets, licorice and cinnamon
Palate:  Dry, medium intensity, medium alcohol, medium body and medium chalky tannins. Flavors of strawberry, raspberry, cinnamon/clove with a medium simple finish of dried flowers and red fruit.